I've just returned from a weeklong deep dive into the frontline of societal renewal in Indonesia. In an earlier blog I shared some of my experiences with a group of Indonesian leaders from government, business, and civil society who came for a weeklong module at MIT in September. They were participants in the MIT IDEAS program that I chair, which takes leaders from society's three sectors (business, government, civil society) on a 12-month journey of personal, professional, and institutional innovation and renewal.
This time we came together again for a weeklong retreat on Wakatobi, a group of remote islands in the Banda Sea, which is in the Coral Triangle region that is part of the earth's second most important biodiversity region (second only to the Amazon). In 2009 (May 15 2009) six countries (Indonesia, Philippines, Malaysia, Timor Leste, Papua New Guinea, Solomon Islands) signed the Coral Triangle Initiative (CTI) for co-managing and protecting a marine ecosystem that is home to the highest coral diversity in the world with 600 corals or 76% of the world's known coral species. Today CTI has thousands of stakeholders from across all sectors. Sadly, since the treaty's signing, little has been done to implement its goals at the ground level, among fishermen and local communities. This is where the story is directly linked to our tri-sector group of IDEAS fellows, which includes several key players in the CTI system.
Here are seven observations from my trip:
1. Coming to Indonesia today, after President Jokowi took office in October 2014, is like inhaling a breath of fresh air. In a world that is ruled by vested interests that prevent substantial commitments to reduce carbon emissions and in which elections are decided by negative advertising campaigns, political outsider Jokowi's win was an astonishing event. Not only had he operated outside the political establishment, but as the governor of Jakarta (2012-2014) he went on to confront the vested interests in the Jakarta establishment head-on. He succeeded by forming an alliance with the public, with common people, and by putting all of his and his government's meetings on YouTube. That transparency protected him from the corrupt influences that sidetracked earlier administrations for so many years.
So who was responsible for bringing such a man into power in the third largest democracy on our planet? Artists, cultural creatives, social media activists, and civil society. Last summer, when Jokowi's campaign was trailing in the polls and his opponent hired well-known artists to help extend his lead, another group of artists and musicians independently formed a cultural music festival initiative to support Jokowi. None of these artists were paid. When the festival went viral, the tide in the presidential race began to turn. Indonesia today feels a bit like the United States did after Obama was inaugurated in 2009. But that is where the parallel ends. In slashing Indonesia's massive gasoline subsidies a few days after taking office, Jokowi made a courageous, though unpopular, move that did more for the sustainability of the planet than Obama has delivered in almost two terms.
2. A Disconnect between Capital and Community. Upon arriving in Wakatobi, we got a first-hand view of the disconnect between central government and the local communities. The head of local Parliament, Mr. Muhammad Ali, told me: "Fighting with this disconnect everyday frustrates me a lot. Often I am about to give up. Maybe it's hopeless. Time and again we are confronted with regulation that got created without consulting us and that makes no sense for our communities here."
For example, on a national level it may seem like a good idea to declare a whole region a protected area (for the sake of biodiversity and sustainability), but it makes no sense when the resulting zoning conflicts with the traditions of local tribes who, traditionally, already use sustainable eco-system practices–just not the same ones that the government in Jakarta imposes them on them.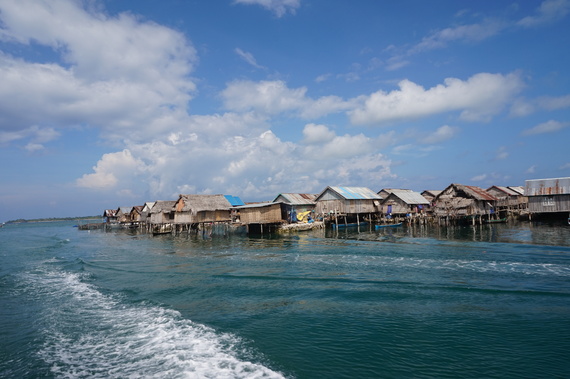 3.
Deep Dive: Discovering Common Ground.
We saw the same disconnect, between center and periphery, replicated between the tribes and their locally elected government. In many ways the local political issues mirror the national issues, just on a smaller scale. However, the Bupati (the directly elected local Regent of a Regency) managed to transform this relationship with local tribes to one that now is much more co-creative.
As Bupati Hugua told me: "At the height of the conflict the protesters were about to demolish a government building while at the same time the armed forces had regional orders to shoot against them in such a case. When I saw this potential bloodshed taking shape I went to the tribal leaders and told them I would follow them. I basically joined the conversation with them on their terms. I showed them respect. They instantly called off the violent demonstration that was about to happen on that same day and would have resulted in a terrible bloodshed against villagers." Ever since, the Bupati has held regular consultative meetings with the tribal leaders. He says: "I no longer create any policies for villages. They do it themselves. Or we do it jointly. The key is to truly listen to them."
But building this capacity for listening and dialogue in local government isn't easy. "The problem", said Bupati Hugua, is that "our current education system provides us with civil servants and teachers who act like robots." His challenge was to help them to learn to listen and "to act like human beings." He asked Manan, the President of the Bajau community (a gypsy-like tribe that lives on the water), to attend a training session in listening-based leadership development (based on the U process) and then to apply this method to help his team. Manan brilliantly delivered what he had learned to his entire group of local department heads and deputies by taking them on a deep dive to the sea. Says Manan: "You would think that people living in this spectacular marine area know what the ocean floor looks like. But that's not the case. So we took them [there]."
The next day the whole group reported being shocked and surprised by the amount of waste they saw, saddened by the dead coral, and delighted by beauty of the underwater world and the living coral. They talked about how their shared perception of the common ground had changed how they thought and how they related to each other, and about how they needed to collaborate across departments to address the deeper root issues.
4. The power of prototyping. The method that Manan and Hugua applied consists of three primary stages: deep immersion ("shared seeing"), deep reflection ("stillness: allow the inner knowing to emerge"), and rapid prototyping ("action learning"). Prototyping means doing something very small very quickly, then listening to the feedback, and then changing what you are doing in response to the feedback ("iterate, iterate, iterate…"). The application of many prototypes has visibly changed how these communities operate.
What struck me when talking with community members and tribal leaders was how much they resonated with this type of process. As one of the tribal leaders put it: "I have observed how this group has been working together. It connects with the spirit of our own tradition." That statement made me really happy. What higher compliment can you imagine than having your research method recognized by tribal leaders?
So while this approach to relinking center and periphery seems to work on the local level, the big question of course remains how to take this way of operating to the national level… which brings me back to IDEAS.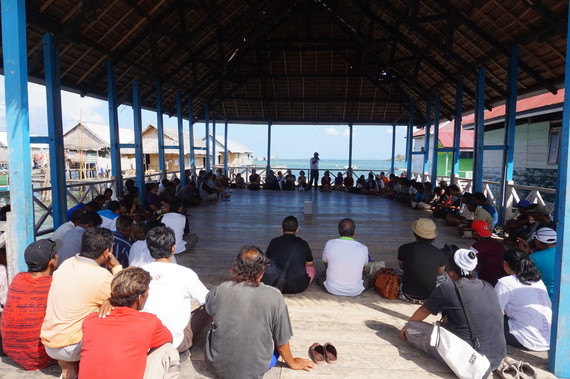 5.
IDEAS JOURNEY: Transformation in Indonesia.
During the one-week workshop we first went on an immersion journey to the Bajau community (picture). Then participants created a 4D map of the current transformation in Indonesia. Using
Social Presencing Theatre
, the participants first mapped the current situation in Indonesia (Sculpture 1), and then how these current stakeholder relationships could be transformed in the emerging future (Sculpture 2). Part of the method entails visualizing one's relationship to the ecological divide (earth), the social divide (marginalized communities), and the spiritual divide in society (
Pancasila
, the collective aspiration of the country, see picture).
In Sculpture 1, these three roles (earth, marginalized, Pancasila) were at the periphery (or in the "blind spot") of the system; in Sculpture 2 they moved into the heart of the emerging eco-system (picture). The transformation from the old to the new required a number of players to actively
hold the space
so that others could connect with each other. In their transformed state, all of the system's players could
see the whole.
6. Seeding the future. In developing their prototyping ideas the group developed four initiatives that they will explore by doing over the coming months: a Sustainable Fish Supply Chain; Eco-Tourism and Sustainable Development in Wakatobi; Capacity Building for Sustainable and Socially Responsible Banking; Inclusive and Sustainable Development in Bali. The beauty of a tri-sector group like IDEAS is that it starts with a core team that instantly works across sectors. For example, the sustainable fish supply chain initiative includes a key NGO player, a retail chain CEO who is willing to provide access to his supply chain, and two officers of the Indonesian navy and air force who will organize surveillance of illegal fishing activities. All of the teams have such a cross-sector core.
Each team is facing essentially the same challenge: to bridge the divides between Jakarta (as a synonym for national government and megacity) and local communities on the one hand and between business, government, and civil society on the other hand. Their task is the same: to transform reactive and silo-minded interactions into co-creative stakeholder relationships that generate well-being for all stakeholders in the system.
7. Innovation Ecologies. The IDEAS program has been supporting these prototyping initiatives for several years now. Sometimes the results show significant social impact. Sometimes the results are more – shall we say – modest, more a vehicle for lessons learned. We often wonder whether the whole thing will ever produce the enormous changes that are needed locally, nationally, globally.
Last week, for the first time, I saw how this could work. Having conducted this tri-sector IDEAS program in Indonesia for the past five years, we invited its alumni to a meeting in Jakarta. About 40 of them showed up. After welcoming them, we asked them to share, in small and large groups, what had changed in their lives. The results were truly inspiring.
Almost all of them where involved in significant change initiatives and projects in their organizations, networks, systems, and communities. They had made many additional connections through those projects. And many of them had been involved in the movement to elect the new President.
The initiatives were clustered around four themes: national parks, entrepreneurship, reform of the educational system, and sustainability. In each one, what began as a relatively insignificant prototype became something much bigger. New constellations of change makers were affecting systems on the scale of the whole, often by linking innovative prototypes with change makers in the media, ministries, business, and civil society. On that morning I saw how many seemingly disconnected projects and initiatives had begun to link up into a living ecosystem, an innovation ecology. As on a farm, one day you see nothing growing in the fields. The next day you see thousands of sprouts poking up through the soil.
8. The Power of Social Fields. So what is the emerging source code, the method that we see at work throughout these observations and stories?
Here is what the method boils down to: Take a diverse group of young emerging leaders from all sectors of society; help them to explore some of their shared intentions; throw them into places of most potential, where they can see their systems from the edges or entirely from the outside, and give them some good reflection and co-sensing tools; invite them into a space of stillness, where they can access the inner sources of knowing; help them to crystallize their deepest personal and professional life intentions; help them to use rapid cycle prototyping in order to explore the future by doing; and finally, link what is working with the larger context.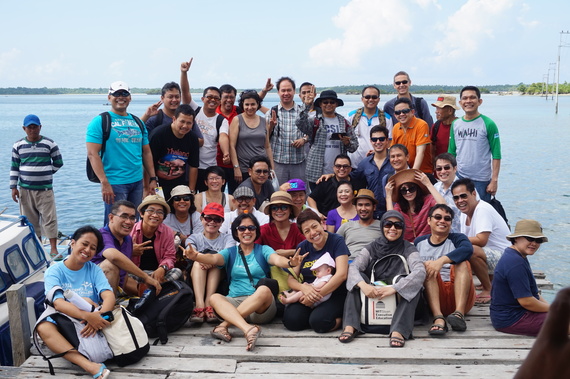 What we are learning is that these fields of inspired connections have an enormous and largely untapped transformative power. Usually we activate reactive and technocratic social fields through existing methods of problem solving. The process of activating, or "switching on" inspired social fields works differently. No one has a blueprint for how the eco-system is going to self-organize. You cannot control it. But you can cultivate it — like a farmer cultivates a field.
Society's institutions are not currently designed for this inner cultivation, however. As Bupati Hugua, also an IDEAS fellow, told us last week about a teacher training session he had run: "At the end of the session several of them were crying. They said why is it that we learn to operate this way only towards the end of our life and career? Why didn't we learn it in university training when we were at the beginning of our journey?"
One mechanism for bringing ideas to people earlier in their careers is the MOOC (Massive Open Online Course), which makes educational content available to anyone everywhere, free of charge. The MITx U-Lab MOOC, to be launched in January 2015, will offer a deep listening and learning environment for a global community of 20,000-25,000 participants, helping them to move from individual projects and communities to activating a globally distributed ecology of inspired change.
Thanks to our wonderful partners and co-conveners in Indonesia: UID (United In Diversity), to all IDEAS fellows, and to Frans Sugiarta and Dr. Ben Chan, our colleagues in Jakarta and Singapore, for co-creating this story.
No comments yet.
Leave a comment
Recent Posts
Blogroll
RSS Feed